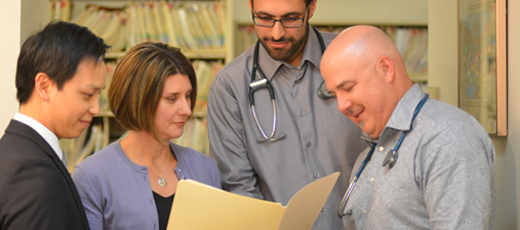 Backgrounder
2-page Shared Care Committee overview available here
The relationship between the family and specialist physician is fundamental to the delivery of effective health care, especially for more complex patient populations.
A growing number of sub-specialties along with patient management by physician teams in hospitals has contributed to care that is comprehensive but can be disjointed. Gaps in communication between hospital-based and community-based physicians, and between family and specialist physicians, can impede the flow of patients from primary to specialist care, especially for patients with chronic health conditions.
Today many family and specialist physicians in British Columbia are working together through Shared Care initiatives to improve flow and bridge gaps in care to improve health and patient/provider experience.
By facilitating collaboration between family and specialist physicians, Shared Care initiatives foster mutual trust, respect and knowledge of each physician's expertise, skills, and responsibilities, all of which are integral to effective collaboration and collegial relationships. Long term, Shared Care work helps build a collaborative infrastructure for sustainable improvements for our health care system in BC.
SHARED CARE COMMITTEE
The Shared Care Committee is a joint collaborative committee of Doctors of BC and the BC Ministry of Health (MoH) working to improve patients' health outcomes and their journey through the health care system. Formed in 2006 as part of the Physician Master Agreement, we work closely with the General Practice Services Committee and the Specialist Services Committee, but we have our own distinct mandate and projects.
Our goal is to deliver effective, integrated primary and community health care services by:
Understanding the working relationship between family physicians and specialists, while implementing pragmatic solutions to improve and support it;
Developing collaborative approaches that address barriers to care;
Embracing new technologies, service models, and payment methods;
Fostering patient self-management; and
Reducing unnecessary burdens on patients and their families.
DELIVERY CHANNELS
The Shared Care Committee works closely with physicians in their local communities through a variety of organizations such as the local divisions of family practice, health authorities, post-secondary institutions, non-profit organizations and individual physician offices. The key is to find the right organizational fit for each community based on the needs and consensus of the family and specialist physicans.