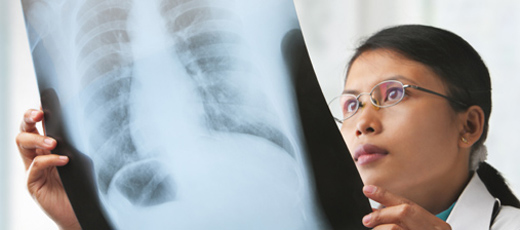 Diagnostic imaging efficiencies
Open dialogue between radiologists and family physicians paves the way for diagnostic imaging efficiencies
Communication is an important element in every relationship. For family physicians and radiologists at Kelowna General Hospital, it was also the cornerstone of an initiative to improve access to radiology services, and to urgent ultrasound and CT tests in particular.
Launched in 2011, the Central Okanagan Shared Care Radiology Partnership was a collaborative pilot project of the Shared Care Committee involving a partnership between the diagnostic imaging department at Kelowna General Hospital and the Central Okanagan Division of Family Practice. The Shared Care Committee is a partnership of the BC Medical Association and Ministry of Health that supports family and specialist physicians to work together to improve health outcomes and the patient journey through the health care system.
One of the key benefits of the project was that it opened dialogue between the radiologists and family physicians, allowing them to gain a better understanding of the issues each group was facing and to identify ways to improve patient access to diagnostic imaging. Improvement methods developed and tested during the pilot are now in place and continue to be used by physicians. "The partnership really reflected the Shared Care philosophy of strengthening the integration of care between specialists and GPs," says Gayle Klammer, a family physician and lead of the Central Okanagan Division. "The changes we introduced have become standard practice for how we work together on a daily basis."
The first improvement was a telephone "hotline" that connected family physicians to on duty radiologists.
"The direct phone line enables family physicians to speak directly with radiologists about test results or to obtain advice about which tests are appropriate to order given the patient's status and condition, including the appropriate timeframe for completing those tests," says Cathy Staples, a radiologist at Kelowna General Hospital and member of the project steering committee. Family physician Wendy Wickstrom says that being able to speak directly with a radiologist helps her avoid sending patients to the emergency department and, in some cases, reduces the need to refer to a specialist for further consultation.
The second component of the pilot was a redesign of the imaging services requisition form.
"The previous form only had three choices: elective, urgent, and emergent," says Pam Hoeschle, manager of diagnostic imaging, Kelowna General Hospital, Interior Health. "Because family physicians were frustrated with how long it took to obtain the appropriate test, the majority of requests were marked "urgent." There was no way of determining which ones were truly critical."
The new form includes space for details about why a test is being ordered and enables family physicians to better categorize the ideal timeframe for completing it. In addition, family physicians are asked to provide cell or private office phone numbers where the radiologist can reach them to report urgent results or discuss a case without having to deal with closed offices or answering services.
The form added four new classifications for "urgent" tests.
Level 1 – 24 to 48 hours.
Level 2 – 48 hours to 7 days.
Level 3 – 7 to 14 days.
Level 4 – 15 to 35 days.
Tests that need to be completed the same day require a call to the Diagnostic Imaging phone line for booking.
"The new system significantly increased family physicians' confidence that tests would be completed within the timeframe requested," says Wickstrom.
Recognizing that it is impossible to regulate the demand for diagnostic imaging, Kelowna General Hospital also provides regular updates on waitlist times so Kelowna family physicians have a realistic idea of how long it will take to obtain different tests and where there may be delays. The Central Okanagan Division includes the wait times and booking calendar in its quarterly newsletter.
Two other components were important to the success of the pilot. A project steering committee brought together family physicians, radiologists, and representatives from Interior Health and the Central Okanagan Division to work collaboratively on solutions. In addition, the Division and Interior Health conducted face-to-face meetings and tutorials with participating physicians and their medical office assistants.
Costs of the pilot were minimal and participants agree that it has significantly enhanced physician communication and ultimately improved patient care. In the words of Hoeschle about the new approach, "it just makes good sense."