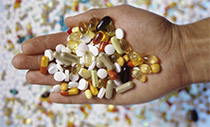 Polypharmacy Risk Reduction Initiative
For clinical resources and tools click here
Shared Care newsletter article
Hip fracture patients benefit from combined efforts for care
BC Medical Journal
Polypharmacy in BC-The Shared Care Approach
---
Taking multiple medications, or polypharmacy, is a risk factor for serious adverse events for our elderly community, especially for the frail elderly. With each medication taken, the risk of confusion, falls and other negative impacts rises exponentially.
The Shared Care Polypharmacy Risk Reduction initiative aims to reduce risks of polypharmacy in the elderly by providing physicians with tools and strategies to reduce medications for improved safety and quality of life. 
This initiative is being implemented in phases, focusing on prescribing in the following care settings:
Residential Care
We are equipping and supporting residential care physicians to reduce polypharmacy risk in communities throughout BC. The initiative is collaborating with the General Practice Services Committee (GPSC) as they roll out the Residential Care Initiative.
Acute Care and Transition
Currently, prototyping is being carried out in four medical and four surgical units at eight hospitals across BC. The goal is to learn how to reduce risk of polypharmacy from the point of a patient's admission to acute care, during their stay, and after discharge to their home or to residential care.
Community Care
Building on delivery through residential and acute care settings, we will be looking for innovative ways to support physicians to reduce polypharmacy risk for elderly and frail elderly patients in their community practices.
More information on the Residential Care approach can be found
here
Communities we're supporting
Many communities are being supported with Polypharmacy Risk Reduction in some capacity through their local physicians and local division of family practice. Click below to learn more about what they've achieved so far, and their future plans to reduce risk of multiple medications for the elderly and frail in their community:
Northern: Prince George
Interior: East Kootenay, Kootenay Boundary, Shuswap North Okanagan, Thompson, South Okanagan Similkameen
Vancouver & Gulf Islands: Campbell River, Comox Valley, Salt Spring Island, Victoria and South Island
Vancouver Coastal: North Shore, Richmond, Vancouver
Fraser Health Authority: Abbotsford, Burnaby, Chilliwack, Fraser Northwest, Langley, Mission, Ridge Meadows, White Rock/S. Surrey
Related Initiatives
BC Patient Safety Quality Council
Family and physician perspectives
Hear different perspectives on why it's important to address the issue of polypharmacy for the elderly in our communities.
Johanna Trimble
Family member
Is your Mom on drugs? Ours was.
Johanna's mother-in-law became confused and suffered hallucinations as the result of an adverse reaction to anti-depressants and pain medication.
Dr. Ralph Jones
Family Physician
"It's not just a quality of care but a quality of life issue. I've seen dramatic differences in residents' quality of life when the burdon of medication is reduced."
Dr. Chris Rauscher
Geriatrician and Clinical Lead
Clinical Support Materials and medication reviews; what to consider when changing drugs, including looking at non-pharmacologic approach.
Contacts
Keith White, Physician Lead
---
Chris Rauscher, Clinical Lead
---
Margaret English, Initiatives Lead
---