Transitions in Care
Background
The Shared Care Committee's Partners in Care (PiC) and Transitions in Care (TiC) initiatives were established separately a number of years ago to support GP/specialist-led collaborative projects focused predominantly on the local community, but with potential for spread regionally and provincially. The initiatives encourage engagement and collaboration with community partners to improve the flow of care between providers (PiC) and care settings (TiC).
These initiatives have now been amalgamated into one Shared Care program. A PiC/TiC Overview & Guidelines document has been created to ensure that those interested in the program and entering into a partnership with the Shared Care Committee, have clear information regarding:
• values and principles;
• project development guidelines;
• funding priorities;
• how to complete an expression of interest (template included) and full funding proposal;
• responsibilities;
• budget and costs.
Funding Intake:
In order to responsibly manage PiC/TiC funding, and maintain equitable access to funding support, Expressions of Interest and project proposals will be reviewed by the Committee quarterly, in April, August, October and January.
For examples of the 67 PiC/TiC projects underway, please visit 'Initiatives' on this site.
Resources
---
In this pamphlet you'll find charts with stats for Shared Care's PiC/TiC projects by region, and population. As an example, the chart below demonstrates the balance of Shared Care projects between rural and urban areas of the province. The pamplet also provides lists of completed and current projects by region, and primary and secondary themes. If you have any feedback or suggestions on the content, please let us know at shared_care@doctorsofbc.ca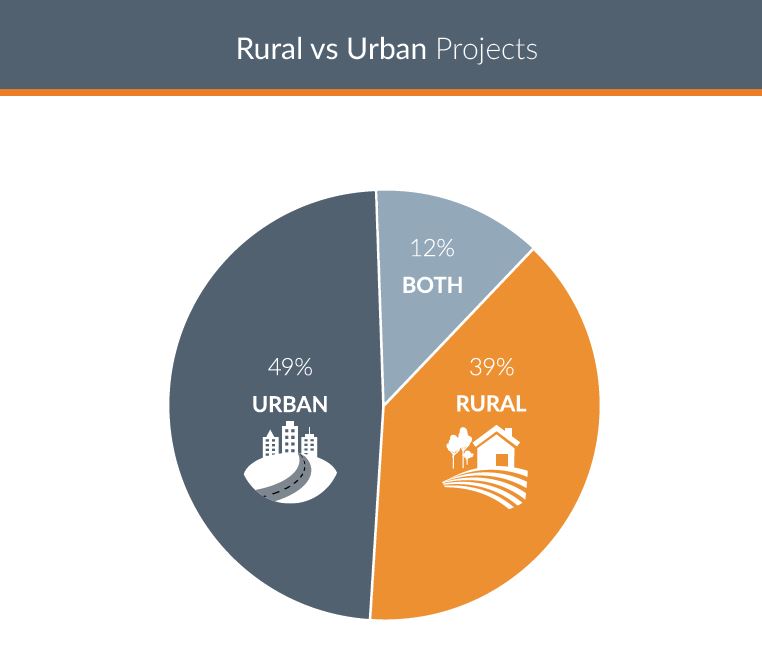 ---
Partners in Care/Transitions in Care Overview & Guidelines
Physician and Project Leads Workshop Summary Report, September 2016
---
For more information contact:
Shared Care Committee
Email: shared_care@doctorsofbc.ca