Physician profile: Physiatrist Najam Mian advocates for aggressive and comprehensive treatment of chronic pain
Posted on December 8, 2022
"Pain can be complex, and everyone needs an individualized program."
Vancouver-based physiatrist Dr Najam Mian is passionate about advocating for a tailored, multi-disciplinary model of care for the estimated one in five Canadians suffering from chronic pain. He notes that it is important to consider how chronic pain affects each patient's unique daily life.
Dr Mian is a triple-certified specialist in pain medicine, physical medicine and rehabilitation (physiatry), and sport medicine. He is also the son of a pediatrician, brother to a pediatrician, and the father of two young children.
"Compared to the traditional route of focusing only on the biological drivers of pain, the biopsychosocial approach provides a more comprehensive assessment of an individual's pain experience and their function," he says. "This subsequently opens up more treatment options that are likely to help."
He explains that "a professional athlete who presents with focal pain, without any associated catastrophizing, anxiety, or depression, is likely to improve with simple strategies such as revision of their rehabilitation program, and potentially an injection." Whereas another individual who has a background of psychological trauma with poor coping strategies and is involved in another episode, such as a motor vehicle accident, "is more likely to have poor function in many aspects of their life, and requires a very different, individualized, and comprehensive approach," he says.
It's that 4-P strategy— physical, procedural, psychological, and pharmacological—that characterizes the modern treatment of chronic musculoskeletal and spinal pain, according to Dr Mian.
In Dr Mian's experience, "pain physicians and physiatrists will ask about a patient's musculoskeletal concerns, but also the impact on sleep and mood. Often, individuals experiencing pain are feeling helpless or sad, and have uncontrollable worrying. We will also do an assessment of how the pain is affecting their day-to-day work, their household activities, and their capacity to engage in sports and exercise."
Dr Mian graduated from the University of Alberta's Faculty of Medicine and Dentistry. He embraced his targeted holistic approach to pain management while completing seven years of specialty and sub-specialty training at the University of Toronto, in the Departments of Medicine and then Anesthesia.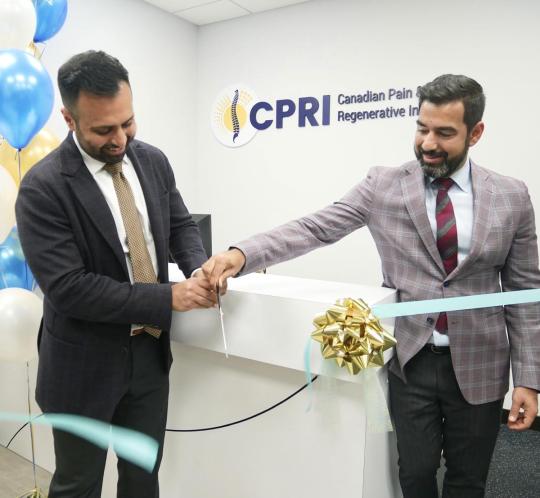 After training in pain medicine in Ontario, Dr Mian and his physiatrist colleague, Dr Kshitij Chawla, decided to share their fresh approach with patients in Vancouver. In 2019, they opened the first Canadian Pain & Regenerative Institute (CPRI) location. The institute's team treats everything from ankle pain to neuropathy through physiatry, anesthesiology, primary care sports medicine, physical therapy, occupational therapy, counselling, psychology, pain coaching, and kinesiology. Common treatments include passive and active rehabilitation strategies, pain neuroscience education, self-management strategies, optimization of mental health, medications, and interventional pain procedures guided by fluoroscopy and ultrasound.
Dr Mian was also inspired by Canada's first Transitional Pain Clinic, located in Toronto, which focuses on reducing post-surgical patients' opioid consumption. He is now a consultant at the Transitional Pain Clinic at Vancouver General Hospital, founded by Dr. Michael Negraeff, where physiatry, anesthesiology, psychology, physical therapy, and occupational therapy help those anticipating surgery develop healthy pain-relief strategies and reduce their opioid consumption.
As the Provincial Clinical Lead of the Shared Care Committee (SCC)-funded and Pain BC-supported ECHO series for Chronic Pain, he leads a multi-disciplinary hub team that spreads the word about ways— both innovative and established—to diagnose and treat chronic pain conditions. "It has been exciting to see the development of a collegial and engaged community where everyone feels safe and supported while discussing ideas to manage complicated presentations of musculoskeletal pain," explains Dr Mian.
Their monthly Zoom sessions feature a presentation, a question-and-answer period, and a community case study paired with a discussion and formulation of recommendations for the presenter. Recently, one ECHO guest speaker, Dr. Vishal Varshney, discussed neuromodulation for chronic pain, explaining how an electrical stimulator placed into the lining of the spinal cord can modulate pain pathways and alleviate suffering.
Dr Mian is also the Specialist Lead of the SCC's Chronic Pain Advisory Committee, contributor to Pain BC's Pain Foundations course, and a Clinical Assistant Professor in the Division of Physical Medicine and Rehabilitation, Department of Medicine at UBC. He is always enthusiastic to hear about and contribute to Pain BC's initiatives, including the recent development of FIND HELP NEAR YOU, a new database of chronic pain resources for health care professionals in BC, which is potentially launching in the new year.
Dr Mian is encouraged by all the great education, research, and clinical work happening in the areas of musculoskeletal and neuropathic pain, and the impact this will have on the future of patient care. "As a result," he says, "I'm certain clinicians in Canada are going to be doing a much better job of reducing the acute-to-chronic pain transition and managing persistent pain in the coming years."