CYMHSU Community of Practice
8th Annual COMMUNITY OF PRACTICE PROVINCIAL GATHERING
Learn from experts, network with colleagues, and contribute your experience.
On September 14, 2023 we will convene for an entire day of connection, inspiration, and participation. Participants will:
Build their networks of providers committed to mental health and substance use care for children and youth
Learn from globally renowned experts, including Dr Gabor Maté
Contribute their experiences in best practices
Registration details coming soon.
Check out the summary report below for more insight into last year's Community of Practice gathering.
Summary Report - 7th Annual Gathering of the Child & Youth Mental Health and Substance Use CoP - May 13, 2022
OVERVIEW - CYMHSU COMMUNITY OF PRACTICE
When the Child and Youth Mental Health and Substance Use (CYMHSU) Collaborative wrapped up in December 2017, physicians and other health professionals felt there was a need to continue working together to champion care and to support improvements in mental health and substance use services for children and youth.
The Shared Care Committee agreed, and since then have been supporting a CYMHSU Community of Practice which now includes more than 270 physicians, health professionals and system partners, including representatives from Government Ministries and Health Authorities. Five in-person meetings have taken place, to bring together the community and to set common goals.
2023/25 Strategic plan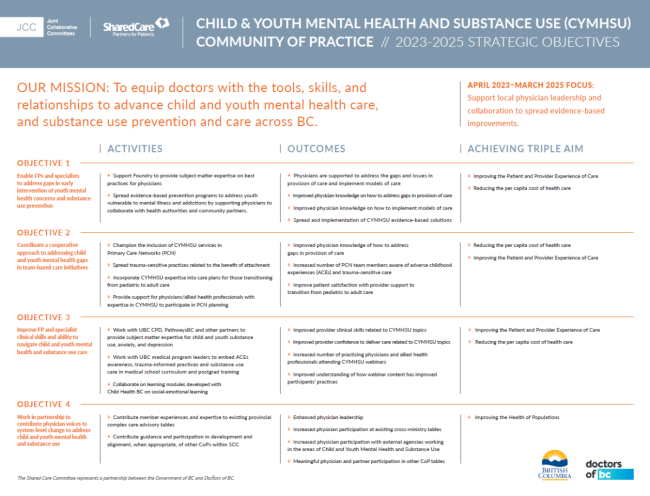 WORKING GROUPS FOCUSing ON PRIORITY AREAS
1) Substance Use
2) Adverse Childhood Experiences (ACEs)
3) Rotating short-term "Hot Topic" issue as identified by CoP membership
resources
recorded webinars
A number of educational webinars have been recorded for ongoing access including the following:
Tackling Youth Substance Use Challenges During the Pandemic
COVID-19 Impacts: Child & Youth Eating Disorders
Impact of COVID-19 on Child, Youth, and Family Mental Health
Access the recordings here.
ACES resources
For a comprehensive selection of ACEs resources and articles, take a look at our ACEs folder in the Collaborative Toolbox.
GET INVOLVED
If you're passionate about child and youth mental health and would like to get involved, please email Sonia Virk.