CYMHSU Community of Practice
Managing Anxiety and Stress in Families with Children and Youth During the COVID-19 Outbreak
The outbreak of coronavirus disease 2019 (COVID-19) may be stressful for people. Fear and anxiety about a disease can be overwhelming and cause strong emotions in adults, children, and youth.
The Child & Youth Mental Health & Substance Use (CYMHSU) Community of Practice has created the following document to provide information and advice on managing anxiety and stress in families with children and youth during the COVID-19 outbreak. Please share with those you think will be interested.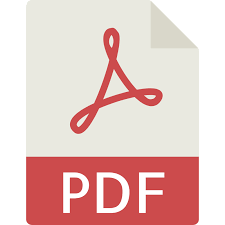 Managing Anxiety and Stress in Families with Children and Youth
During the COVID-19 Outbreak
ACES SUMMIT, MAY 9, 2019
The Community of Practice was pleased to host the 2nd ACEs Summit in the Province on May 9th supported by the Shared Care Committee. Please see resources and a short summary of the event here. For ACEs resources and articles, take a look at our ACEs folder in the Collaborative Toolbox here
COMMUNITY OF PRACTICE PROVINCIAL GATHERING SUMMARY REPORTS
For a summary of attendees, surveys, strategic plans, presentations and outcomes from provincial gatherings and events, please see below.
Summary Report, September 2017
OVERVIEW - CYMHSU COMMUNITY OF PRACTICE
When the Child and Youth Mental Health and Substance Use (CYMHSU) Collaborative wrapped up in December 2017, physicians and other health professionals felt there was a need to continue working together to champion care and to support improvements in mental health and substance use services for children and youth.
The Shared Care Committee agreed, and have been supporting a CYMHSU Community of Practice which includes more than 150+ physicians, health professionals and system partners, including representatives from Government Ministries and Health Authorities. Two in-person meetings have taken place, to bring together the community and to set common goals.
three WORKING GROUPS FOCUS ON priority areas:
Support ongoing, productive discussions with all government ministries involved
Support incorporation into practice of evidence and resources for addressing and preventing Adverse Childhood Experiences (ACE's)
Continue to build community networks of physicians and other health professionals.
Please click on image for full-size version of the CoP's Strategic Plan: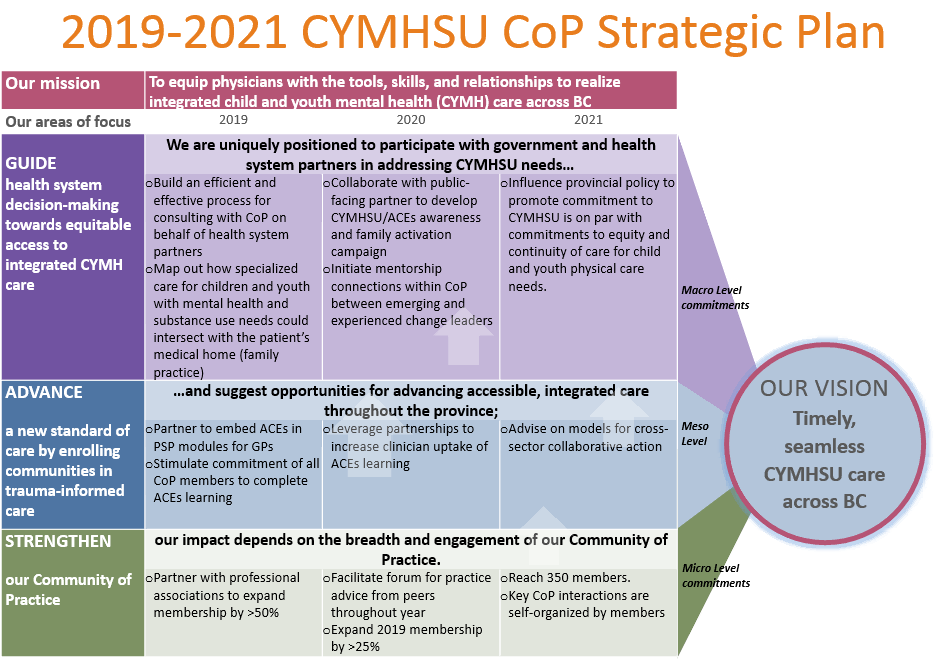 GET INVOLVED
If you're passionate about child and youth mental health and would like to get involved, please email ejanel@doctorsofbc.ca