CYMHSU Community of Practice
Our Mission
To equip doctors with the tools, skills, and relationships to advance child and youth mental health care, and substance use prevention and care across BC.
2023/25 Strategic plan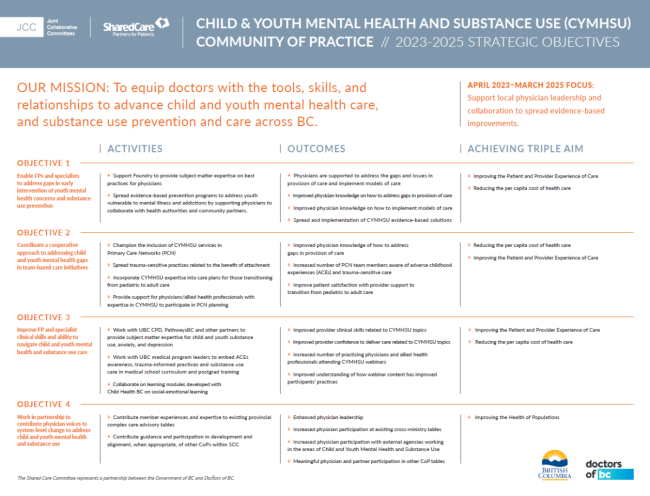 CYMHSU CoP Annual Gathering
On September 14, 2023, over 100 family physicians, specialists, health care providers, Ministry staff, and Doctors of BC staff came together at the Sheraton Wall Centre in Vancouver for an annual gathering focused on improving the quality of care for children and youth facing mental health and substance use issues. Read the summary report for a look at how the event transpired.
Upcoming Events
Trauma, Illness and Healing in a Toxic Culture
January 23, 2024 | 6:30pm–8:00pm | Webinar
Dr. Gabor Maté will explore the links between trauma and illness, and society during this free, accredited webinar. Half of North American adults suffer from chronic illness — a fact Western medicine views largely in terms of individual predispositions and habits. Research has shown that physiologic and behavioural functioning of human beings can be understood only if we integrate our body functions with those of the mind: functions such as awareness, emotions, our interpretations of and responses to events, and our relationships with other people.
Up to 1.5 Mainpro+/MOC Section 1 credits
WORKING GROUPS FOCUSing ON PRIORITY AREAS
1) Substance Use
2) Adverse Childhood Experiences (ACEs)
3) Rotating short-term "Hot Topic" issue as identified by CoP membership
resources
UBC CPD Webinars: Child and Youth Mental Health and Substance Use
A number of educational webinars have been recorded for ongoing access since 2020. You can access all of the recordings through UBC CPD's webinars page.
ACES resources
For a comprehensive selection of ACEs resources and articles, take a look at our ACEs folder in the Collaborative Toolbox.
GET INVOLVED
If you're passionate about child and youth mental health and would like to get involved, please email Sonia Virk.