Perinatal Community of Practice
MISSION
Our mission is to support and unite physicians, midwives, and perinatal care providers in BC, by equipping them with tools, skills, and resources while fostering collaboration and knowledge sharing—all aimed at advancing culturally safe and optimal care for patients.
Overview - Perinatal Community of Practice
Following the success of Shared Care's Maternity Spread Network in 2017, a need was identified to sustain and spread improvements, to expand efforts by including all perinatal care providers and broader system partners (at the community, regional, and provincial levels), and to engage Indigenous leaders in fostering relationships, addressing emerging priorities, and collaborating around the importance of perinatal care in our province. To address this need, the natural next step in the evolution of the work was to develop and implement a perinatal-focused community of practice bringing together health system partners to support the Maternity Services Strategy.
The Shared Care Committee agreed, and since then, have been supporting a Perinatal Community of Practice, which includes a steering committee and a working group. The Community of Practice working group includes representation from healthcare professionals, system partners and community members including an Indigenous Elder and patient partner.
Community of Practice Provincial Gatherings
The Perinatal Community of Practice (CoP) is gearing up to host their next annual engagement event on March 1st, 2024 in Vancouver, BC. A registration link will be distributed to our membership list when available. To join our membership, please email Poppy Murray.
On October 20, 2022,the Perinatal Community of Practice (CoP) Steering Committee hosted a province-wide virtual engagement event. Roughly 126 participants gathered from all health regions, including representatives from Divisions of Family Practice, health authorities, the Ministry of Health, patient partners, and community partners. The event was a great success and included impactful presentation and opportunities for rich discussions among the attendees.
Check out the summary report for further insight into this event.
Additionally, the Perinatal CoP Inaugural Engagement event took place on November 29, 2021. Read the event report.
2023/2025 Strategic Plan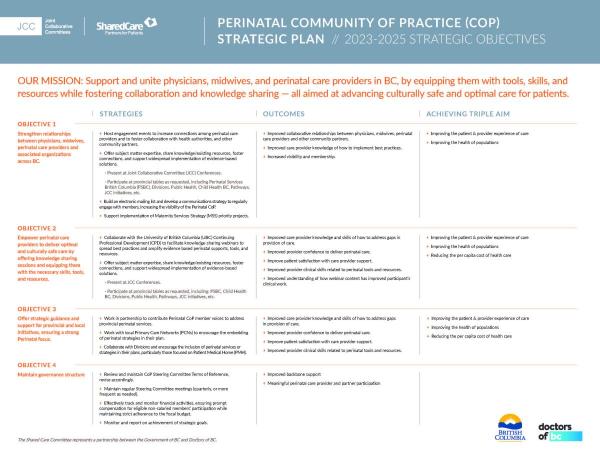 Resources
Webinars
A Team-based Approach to Post Partum and Newborn Care (October 2023)
Access the recording, summary, and resources created on the event page.
Perinatal Wellness: Strategies for Supporting Overwhelmed and Sad Patients (June 2023)
Access the recording, summary, and resources created on the event page.
Accreditation: Viewers can claim self-learning credits through UBC CPD.
This event was brought to you by the Perinatal Community of Practice, with the support of UBC CPD.
Get Involved
If you're passionate about perinatal care and would like to get involved, please reach out to Poppy Murray.
Related Articles
Shared Care Maternity Network Supporting Key Improvements to Perinatal Care
Help and Hope for Moms: Earlier Mental health Screening and Support
BCMJ: Building Interprofessional Maternity Care in BC
Fostering Collaboration in Maternity Care