Northern seniors reaping benefits from medication reviews
When you can reverse a diagnosis of dementia, you know your work is having impact.
This is just one of many profound and life-changing results from a project to reduce risks from multiple medications, known as polypharmacy, for seniors in three communities in Northern BC – Dawson Creek, Tumbler Ridge and Chetwynd.
The medication management project is part of the Coordinating Complex Care for Older Adults' initiative of the Shared Care Committee, a partnership of Doctors of BC and the BC Government.
When family doctor, Dr Charles Helm, a physician lead for the project, speaks about the benefits teams are witnessing, his excitement is palpable.
"Imagine the joy of being able to tell a patient in her 70s diagnosed with dementia 'we don't think you have dementia, we think stopping the medication did the trick. Go out and enjoy your life.' "
This was weeks after stopping a drug commonly prescribed for anxiety and pain that had worked well, but was now causing increased confusion. Her husband and daughters concurred that she was back to her old self. "I wish all medicine could be that simple," says Helm.
Building new connections for teamwork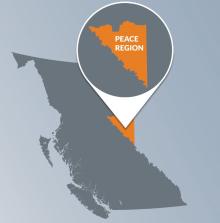 This patient outcome was made possible by an hour-long medication assessment – a key component of the project to develop a formalized, team-based structure for providers, pharmacists, patients and families to communicate around medications.
A pre-project survey had highlighted this lack of structure and consistent communication as risk factors for polypharmacy, errors and adverse events for patients, especially those transitioning in and out of hospital.
Each of the three Northern communities is doing it differently, but in Tumbler Ridge, every person over 65 who is on more than five medications, roughly 110 patients, is being encouraged to attend a medication assessment with Dr Helm, and Charissa Tonnesen, the local pharmacist.
Patients can be referred by their doctor, or learn about the program from the media, local websites, or through word of mouth. Dr Helm says he and Tonnesen are seeing two people a week. The whole process including chart review, correspondence, and follow up - takes about three hours a week. "It's three hours well spent," says Helm.
Helm speaks to the advantages of collaborating with a pharmacist to address polypharmacy, "You'd think that across Canada, physicians and pharmacists would be working together to address this. It's logical, but it's not the standard."
On the process and benefits of working together, he adds, "Charissa and I help each other out. Our training is different. We have different skill sets that we bring to this. When you have free flow of ideas and conversations, things come up that you would not have picked up on your own. There are times when this light bulb goes off for us and we think 'wow, this medication is causing the problem, why didn't we think of it sooner. 'It's because we're both there that we put it together."
Inform and empower
The team approach with patients and families is to inform and empower. "Our goal is to explain and provide information, so they feel comfortable making their own decisions," says Helm. "We tell them not to write anything down. We don't want to distract them from what we're saying." A written record is sent to the patient and their doctor after the review.
The teams talk through the risks and benefits of each medication and identify those that could be causing issues and impacting the patients quality of life. "Some patients are on 15 medications and don't have a clue why they're taking some of them. It's easy for medications to build up, for time to pass, and prescriptions to keep getting renewed despite the fact that the issue may have been resolved."
Tonnesen adds, "It can be time intensive, but the patient experience is well worth it. We've seen palliative patients suffering with debilitating symptoms from medications that are significantly impacting the short life they have left. After discussing what's important to them, they've opted to come off them."
Other reviews identified drugs that were causing dizziness and fainting spells for an elderly patient and dangerous symptoms of hypoglycemia for a man having chemotherapy. Reducing medications to a regimen of once-a-day rather than around the clock for a woman in her 80s with dementia was greeted with relief by the family.
"Sometimes the simplest changes have profound effects on caregivers," says Helm.
Sharing knowledge and promoting dialogue
These case studies are reviewed during monthly webinars, which are engaging local providers and prompting thought-provoking dialogue around medications that are widely prescribed.
Dialogue such as what are the dangers of long-term use of proton pump inhibitors, and why is it important to taper rather than quit cold turkey? How to avoid too many meds for diabetes or blood pressure. Does this person need to be on a statin considering the severe muscle pains experienced by many? Should this medication be prescribed for seniors?
Dr Helm is surprised by the enthusiasm, "The level of engagement in these webinars and the interactive discussion that is happening - I've never seen anything like it to be honest."
Collaborating with partners
Partnerships are essential to the success of the program. Northern Health, the Practice Support Program, Divisions of Family Practice, and UBC's Therapeutics Initiative all have a role in providing education, evaluation, access to data, and facilitating continuous improvements.
Dr. Tom Perry is an internist involved in the project who has been working for more than 20 years to increase awareness of the risks of polypharmacy through UBC's Therapeutics Initiative.
"Starting medications seems to be remarkably easy, even if it doesn't always turn out to be a good idea. Stopping them seems to be much harder in the real world. Through this project, we are all learning more about how we can involve patients, families, and other professional colleagues in timely, wise reviews. We're seeing significant effects on the health of individuals by stopping medications when appropriate. If we can help upscale this effort to include everyone who takes multiple medications, and prevent risks of polypharmacy, we can have a much broader impact on public health," says Perry.
What's next?
Upscaling the project and sharing the results are part of the plan when the project completes in July.
"We're getting support from UBC to research this, and we're aiming to publish the results so the rest of Canada and the world can see the benefits and follow suit. You have to think big," says Helm."As you can tell, I'm excited about this. It's not just another day at the office. This is stuff that we believe very passionately in."
For more information on the project, contact Reina Pharness, Project Lead.
To get involved contact your local Initiative LIaison.