CYMHSU Collaborative
Overview
From 2013 to December 2017, Doctors of BC and the BC government committed to increasing timely access to support and services for child and youth mental health and substance in BC through funding and stewardship of the Child and Youth Mental Health and Substance Use (CYMHSU) Collaborative.
The CYMHSU Collaborative first started in the Interior Health region in June 2013 with eight Local Action Teams. By the end of the initiative, the Collaborative had grown province-wide to include the involvement of more than 2,600 people with 64 established Local Action Teams and 11 Working Groups.
HOW IT WORKED
The focus of the Collaborative's Local Action Teams and Working Groups were relationship-building and practical, sustainable solutions to address communication barriers, service delivery gaps, and coordination of care both locally and system-wide. Seven health authorities, three ministries (MoH, MCFD and MEd), hundreds of physicians, and numerous community partners such as police, school districts, community agencies, Aboriginal groups, and others, committed to this initiative. Youth and parents were embedded in every Local Action Team and assumed leadership roles in every area of the Collaborative. The following case study Structure and Change Model of the CYMHSU Collaborative provides a more detailed description of the initiative.
Funding
Funding and administrative support for the Collaborative was provided by the Shared Care Committee in partnership with the General Practice Services, Specialist Services and the Joint Standing Committee on Rural Issues — all are Joint Collaborative Committees representing a partnership of Doctors of BC (formerly the BC Medical Association) and the BC government.
Local Action Teams
Local Action Teams were located in the following areas. Many are still operating in some capacity today. For more information contact shared_care@doctorsofbc.ca
Interior: Ashcroft, Boundary, Cariboo, Central Okanagan, Clearwater, Creston, Golden, Kimberley/Cranbrook, Lillooet, Lytton, Merritt, North Okanagan, Oliver/Osoyoos/Okanagan Falls, Revelstoke, Shuswap, South Okanagan, Thompson, West Kootenay
Vancouver Island: Campbell River, Comox, Cowichan, Gabriola/Gulf Islands, Long Beach, Mount Waddington, Nanaimo, Oceanside/Parksville, Port Alberni, Saanich Peninsula, Salt Spring Island, Sooke/West Shore, Victoria
Fraser: Abbotsford, Burnaby, Chilliwack, Delta, Fraser Cascades, Langley, Mission, New Westminster, Ridge Meadows, Surrey/N. Delta, Tri-Cities, White Rock/South Surrey
Vancouver Coastal: Bella Coola, North Shore, Pemberton, Sea-to-Sky, Sunshine Coast, Vancouver
Northern: Burns Lake, Dawson Creek, Ft. St. James, Fraser Lake, Haida Gwaii North, Haida Gwaii South, Hazelton, Kitimat, Prince George, Prince Rupert, Quesnel, Smithers, Terrace, Valemount, Vanderhoof
Legacies of the CYMHSU Collaborative
CYMHSU COMMUNITY OF PRACTICE
In response to a request from physicians, and as one of the legacies of the Collaborative, the Shared Care Committee has committed funds over two years to support a CYMHSU 'community of practice'. 145 physicians have joined the group, demonstrating the widespread interest in networking with physician colleagues and partners to improve care for this vulnerable population. Learn more here.

ADVERSE CHILDHOOD EXPERIENCES (ACES) SUMMIT: BC AND BEYOND
On November 14th & 15th, over 600 people attended the ACEs Summit at the Sheraton Wall Centre in Vancouver. Over the last four years, ACEs awareness and understanding has grown in BC in large part through the work of the Collaborative. This Summit is a just one of the legacies of this work, recognizing that action across all sectors is needed to address ACEs with improved policies and practices.
Click here for more information and for resources shared at the Summit
TOOLS & RESOURCES

The Collaborative released two 'legacy' items to encourage spread of successful community strategies, many developed since 2013 by Local Action Teams and Working Groups of the CYMHSU Collaborative. These 'Legacy' items provide ideas, tools and resources to help Local Action Teams, community partners and stakeholders, achieve their objectives in CYMHSU. Click on the images to take a look.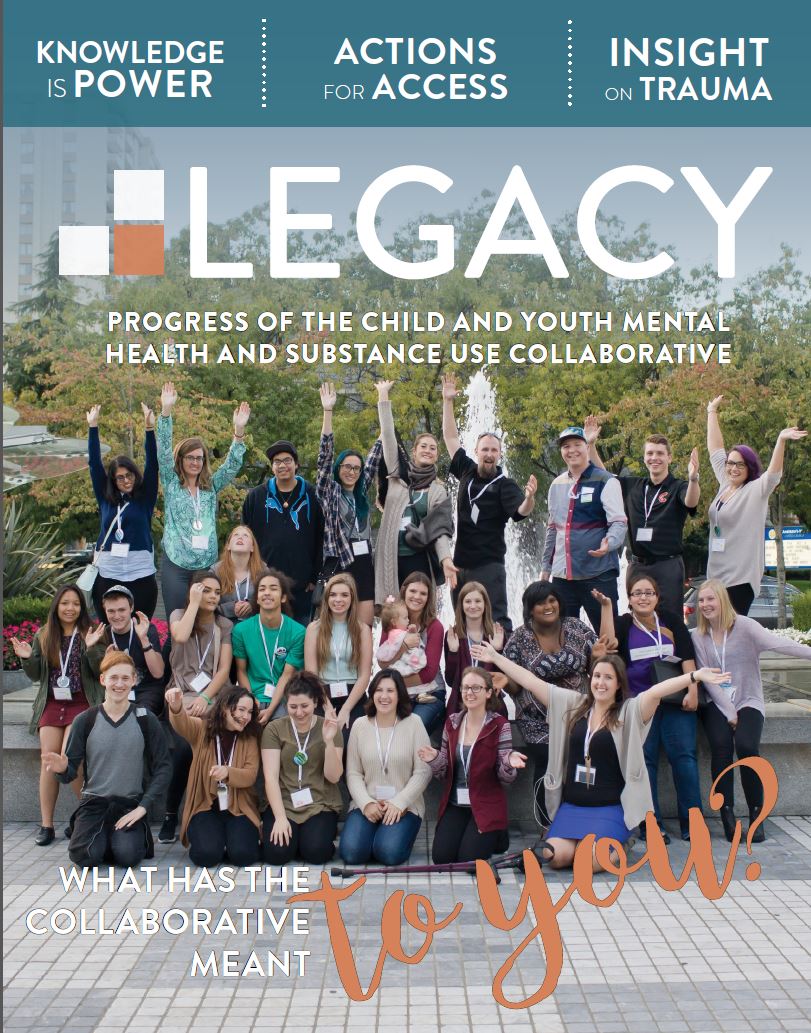 THE INTEGRATED CARE APPROACH
This short video highlights how the team approach benefits youth and care providers
Contact
Related articles